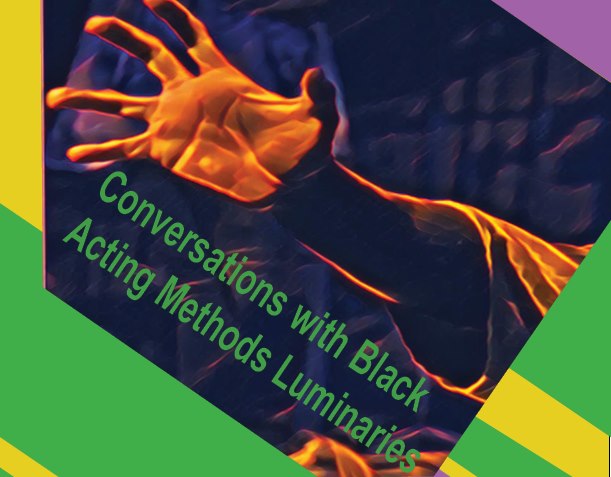 Continuum:
The Journal of

African Diaspora

Drama, Theatre and Performance
Conversations with Black Acting Methods Luminaries
Sharrell D. Luckett, Guest Editor

TABLE OF CONTENTS

Editorial Notes: Conversations with Black Acting Methods Luminaries -Sharrell D. Luckett, Guest Editor
ARTICLES

Directing Actors of Color in White Classic Texts: Tony Award Winner Ron Simons and Justin Emeka in Conversation

ABSTRACT
Ron: Although we were never in graduate school together, we both attended the University of Washington School of Drama at critical times in our lives. I finished the acting program a year before you started the directing program. What led you to pursue an MFA in directing?
Justin: Well, I had been directing and acting in Seattle for about seven years after I graduated from Oberlin College. There weren't a lot of opportunities for directors and actors of color so I was self-producing mostly, as well as teaching and directing in public schools. It was the 90s and Hip-hop was in its golden years. Working with friends from around the way, though none of us really . . .

Covering the Ground We Stand On: Trazana Beverley and Tawnya Pettiford-Wates in Conversation

ABSTRACT
Trazana Beverley had a tremendous impact on the dramatic arts when she won the Tony Award in 1976 for her seminal performance of the Lady in Red in Ntozake Shange's transformative play for colored girls who have considered suicide/when the rainbow is enuf. Historically it was the first time a cast of all Black women, in a dramatic play, were not only featured individually but also created a powerful ensemble on a Broadway stage. I believe the play altered the perception of Black women and was instrumental in bringing her voice from the margins to the center. At least for a period of time, for colored girls... was the talk of the town and the toast of the "Great White Way." Shange's play was so powerful, it was honored by many awards committees in a category all by itself. It was not in the form of the so-called "well-made-play." No. It was a choreopoem as defined by the author herself. It had music but was not a musical. It was not linear nor was it in the traditional form of the story of a central character, hero or heroine, antagonist or protagonist. It was classic but not "classical" within the Western European definition or frame. It was poetic and it was dramatic. It was story and it was melodic. But it was self-defining and authentically crafted within the African continuum and stood squarely and BOLDLY within the Black Aesthetic unequivocally without apology. . . .

To Compromise or Not Compromise? That is the Question: Eugene Lee and Clinnesha D. Sibley in Conversation

ABSTRACT
Every time I submitted work to Texas State University's Black and Latino Playwrights Conference, I would get a personal reply from the artistic director, Eugene Lee, thanking me for my submission. He would conclude his message with something like, "If you have any questions, just holler." The back-and-forth transactions felt authentic enough for me to share my Black Acting Methods chapter, 'Remembering, Rewriting and Reimagining: Afrocentric Approaches to Directing New Work for the Theatre.' When he agreed to dialogue with me about the critical approach I'd written about, I knew this amazing actor/wordsmith who had made significant contributions to black film and theatre would also help me better understand aspects of my field that I was struggling with at the time. As the only black tenure-track professor in a predominantly white theatre department, I was up to my neck in artistic compromises and had begun embracing a newfound self-awareness. I was well on my way to earning my "woke badge," when someone I admired in the field who worked with August Wilson, Kenny Leon, and grew up with the N.E.C. boiled the roux down to a simmering decree: compromise. Our conversation points to this idea that [in some, not all circumstances] it is okay to compromise with our non-black colleagues, which calls for more of a hybrid method [using Eurocentric and Afrocentric approaches to finding a play] in theatre collaborations. I wrestled with that pearl-of-wisdom for the duration of my chapter writing. Was the compromising concept hypocritical? Constantly looking back at and reflecting on my organic reaction to his idea—a single, loaded response. . . .

On process in "Soweto, Soweto, Soweto: A Township is Calling!" Freddie Hendricks and Sharrell D. Luckett in Conversation
ABSTRACT

The Youth Ensemble of Atlanta (YEA), formerly known as the Freddie Hendricks Youth Ensemble of Atlanta was founded in 1990 in Atlanta, GA by Freddie Hendricks and a few of his artistic colleagues. The ensemble served as an artistic space primarily for African American and Black teens of the diaspora to create theatre. Using devising as their central creation instrument, the ensemble performed over seven full-length musicals under the Artistic Direction of Freddie Hendricks.
The ensemble's most notable production is arguably Soweto, Soweto, Soweto: A Township is Calling! (Soweto), which has been performed on four continents. Developed in 1990-1991 in response to apartheid, Soweto is still performed today by the Youth Ensemble of Atlanta. Hendricks wrote the first thirty minutes of this ninety minute piece to provide a solid outline, and then the rest of the piece was devised by the ensemble. Over the course of my research thus far in regards to Freddie Hendricks' acting methodology, the Hendricks Method, and the ensemble's repertoire, I had the opportunity to interview Hendricks formally and informally on several occasions.. . . ..

Good Theatre Got Soul: Exploring Dr. Cristal Chanelle Truscott's SoulWork Method
ABSTRACT

Cristal and Greta first met when the two were cohorts in NYU's Tisch School of the Arts Performance Studies Department, pursuing advanced degrees. While at the Department, they served together on the editorial staff of The Drama Review as Assistant Editors. Closely following Progress Theatre since PEACHES premiered in 2001, this interview evolved based on Greta's sustained familiarity with SoulWork onstage, offstage, in workshop space and in script form over the course of almost two decades. Since 2007, Greta has been an administrative ensemble member with Progress Theatre, currently serving as Administrative and Development Coordinator with the company. In addition to this interview, Greta regularly assists in the company's archiving process. Documenting SoulWork in action through facilitating structured dialogues with Progress Theatre ensemble members, Greta leads larger, company-wide conversations focused on understanding SoulWork from the artist's perspective, and tracking its transmission and growth as a method.. . . ..

Letters at the Edge of the World: Interviews with Medea Project Participants

ABSTRACT

In 1989, on the basis of material developed while conducting classes at the San Francisco County Jail, Rhodessa Jones created "Big Butt Girls, Hard Headed Women," a performance piece based on the lives of the incarcerated women she encountered. During the work's creation, Jones and jail officials were made aware of issues that were specific to female inmates, such as guilt, depression, and self-loathing (due in large part to feeling like failures in society) that contributed to recidivism among female offenders. Based on this observation, Jones founded THE MEDEA PROJECT: THEATER FOR INCARCERATED WOMEN to explore whether an arts-based approach could reduce the amount of women constantly returning to jail.. . . ..

Kadogo Runs the Mojo Down: Bill Harris and Aku Kadogo in Conversation
ABSTRACT
Bill: Discuss the concepts and realities of displacement and inclusion in your work.

Aku: I find myself "the outsider" in many of my directing situations. Some of that comes from having lived overseas for most of my adult life. In the early days at NAISDA (National Aboriginal/Islander Skills Development Association) in Sydney, Australia, we were privileged to work with many Traditional Owners who came from numerous language groups. This was challenging to my perception of myself as a western educated African American woman. . .

Get In Where You Fit In: Creating a Safe Space for Students of Color in the Academy, John Shévin Foster, Kashi Johnson, and Daphnie Sicre in Conversation

ABSTRACT

The moment we were asked to invite someone into conversation about our work innovating the traditional acting class with Hip Hop Theatre and Theater of the Oppressed performance techniques, we both immediately thought of Dr. John Shévin Foster. John is not only an accomplished playwright, director and passionate theatre artist, he is also an experienced theatre educator who is uniquely familiar with the power and impact of Hip Hop Theatre and theatre for social change, having served in, and headed theatre programs at three leading universities, including New York University; and he served as the Education Manager and producer of international theatre at BA/Brooklyn Academy of Music for nine years. We both met John through our membership in the Black Theatre Network, where he currently serves on the executive board. Through our individual workshop presentations at the national conference over the years, John came to learn about our shared passion for creating safe academic spaces that encourage empowered self-expression and dramatic critique of social justice issues. We felt John's accumulated personal and professional experience with Hip Hop Education, Poetry and Educational Theatre made him the perfect person to interview us for this project. Well aware of his legacy and impact as a theatre artist and educator, we were confident he would interview us with genuine interest, possessing the expertise to challenge or critique our work deeply, if needed. As one of the executive leaders of the Black Theatre Network, John holds Black theatre in high regard. When it comes to his work as a playwright and director, he focuses on creating accurate portrayals of contemporary African American life and creates works for artists of color that allow them to stretch beyond the typical roles and subjects they/we are normally afforded. His commitment to and advocacy for Black theatre inspired the three of us to engage in a dynamic conversation about social justice activism in the theatre classroom and rehearsal space.. . . ..
BOOK AND RESOURCE REVIEWS

Approaches to Teaching the Plays of August Wilson. Edited by Sandra Shannon and Sandra Richards, New York: The Modern Language Association of America, 2016.
Pulitzer Prize-winning dramatist August Wilson is arguably the most prolific storyteller of the African American experience and the most discussed Black playwright in the American academy. As indicated by the book editors, Sandra Richards and Sandra Shannon, Wilson's works are a "powerful, astonishing [piece of] theater that offers new, restorative possibilities" (3). This book, Approaches to Teaching the Plays of August Wilson, contains a collection of well-written interdisciplinary essays by scholars, directors, and dramaturgs. Dissimilar to previous studies, the book concentrates on pedagogical strategies for examining and interrogating the life and works of August Wilson in a mixture of academic spaces, courses, and structures. Contributors include Paul Bryant-Jackson, Faedra Chatard Carpenter, Harry Elam Jr., James Engstrom, Joan Herrington, Douglas A. Jones, Jr., Alan Nadel, Andrew Scheiber, Von Washington, and Dana Williams.

Making History of History Itself - www.TheHistoryMakers.org.
The thought that I distinctly remember as I first browsed the site was, "how is it that I have never heard of this?" That assuredly isn't a knock on The HistoryMakers, because clearly, they have been quite busy building this gem. Still, when one starts to browse the pages there, two things become very clear: this is a wonderful effort and it will be an incredible resource for a long time to come.
Founded in 1999, HistoryMakers began recording the oral stories of "both well-known and unsung African Americans." The non-profit is impressively gaining ground toward building the largest oral record of African Americans in the country. After seventeen years of work, they now house 9000 hours of recorded testimonies that are available by appointment in the Library of Congress; recording stories in over 180 cities in U.S. and even those in the Carribean, Mexico and Norway. They do not only seek to record the individual stories and achievements of African Americans, but those of organizations, political movements, and other significant social benchmarks in the African American Community. This enormous amount of content is available only by appointment now in the Library of Congress, but a significant portion is already available in the HistoryMakers Digital Archive. HistoryMakers promises that by April of 2018, the entire collection will be replicated in the online archive, which is the epicenter of the monumental website.
PHOTO GALLERY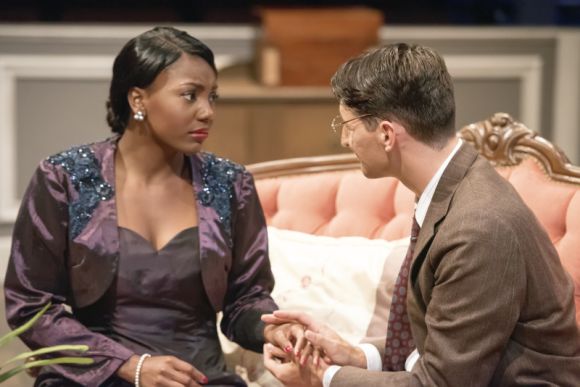 The New Mrs. Tesman. A new adaptation of Henrik Ibsen'sHedda Gabler by Mikell Pinkney.
Performed at the Nadine Maguire Theatre & Dance Pavilion. University of Florida Sept. 2016.
Directed by Mikell Pinkney. Photograph by Suzanna Mars.